Two-factor authentication has not only helped bring an Ohio health care facility into compliance, but streamlined processes and improved data security, reports Greg Masters.
When Dublin Methodist Hospital in Dublin, Ohio sought to enhance patient safety and clinical quality, part of this initiative involved computerized provider order entry. For electronic medication orders, the state of Ohio Board of Pharmacy requires two-factor authentication. This ensures physicians provide identifying credentials at the time of the transaction. Knowing this requirement, the hospital needed to implement a second factor of authentication, such as biometric identification.
The 300,000 square foot, 94-bed facility (expandable to 300 beds) opened its doors to the public in January 2008, with a 24-hour emergency department, surgical services, women's health and obstetrics, and intensive care. It has nearly 1,000 physicians, associates and staff using more than 150 applications. The facility is a part of OhioHealth, a nonprofit, charitable health care organization serving and supported by the community.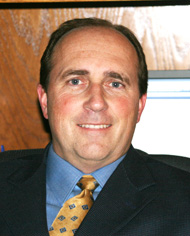 "We had previously implemented a medication administration system utilizing barcodes in order to reduce errors, which occur when medications are administered," says OhioHealth CTO Jim Lowder (
left
). "This helped us to reduce medication administration errors, but we still needed to address errors which occur during ordering."
He cites studies which have shown that a majority of medication errors occur during the ordering process. "Implementing electronic ordering of medications helps us to reduce those errors as well. This is all part of the closed loop medication management process. Being able to meet the authentication regulations of the Ohio Board of Pharmacy was critical to our ability to improve patient safety through electronic medication ordering."
OhioHealth has 280 staff members in its IT department , and Lowder credits Michael Krouse, system vice president and chief information officer, with managing the transition.
The IT team evaluated several identity and access management solutions. Lowder says the team wanted a robust, cost-effective and easily deployed solution that would allow the hospital to comply with state of Ohio Board of Pharmacy requirements for two-factor authentication.
"In addition, we required a solution that could provide a streamlined, fast and convenient process for physicians to login and out of applications they need to deliver optimal patient care."
The IT team recommended Imprivata's OneSign platform. The tool enables quick access to applications and effectively addresses the requirement for two-factor authentication, he says. In addition, the solution was cost-effective, simple for the hospital staff to learn and use, required minimal support and could integrate well with other core health care applications, says Lowder.