A bank replaced its anti-virus when it found it could more effectively guard its systems with anti-malware, reports Greg Masters.
Has the anti-virus market become obsolete? It seems that some network administrators are opting out in favor of newer, more flexible options.
Brent Rickels, senior vice president of First National Bank, headquartered in Valley Mills, Texas, recalls that when the license renewal for his company's previous anti-virus tool was getting close, it just seemed that the anti-virus programs were getting bigger and more bloated and taking more system resources.
"The number of viruses was increasing," he says. "I just began worrying about what might sneak in on us. I thought, 'isn't there something better out there by now?' Anti-virus technology moves very quickly, so why hasn't it moved quick enough to obsolete this tech and come up with something better."
Rickels thought he could more effectively guard his company's systems with anti-malware software that whitelists administratively approved programs with run permissions, but restricts any unknown and unauthorized executables from springing to life.
He did a lot of looking around at anti-virus vendors to see if they'd added anything new, but decided that they really hadn't. He then started looking at other new technologies, such as those that did sandboxing technology.
When he came across the Lumension Sanctuary software solution from Lumension Security, he liked the idea of whitelisting better because it was easier to administer. The Sanctuary suite combines application and device control capabilities.
"It gave us more protection, as sandboxing just protects you from what you're doing at the moment, it doesn't always give you email security. The price was very reasonable. It cost less than our previous tool."
In fact, according to Rickels, Lumension Sanctuary cost 30 percent less than Symantec anti-virus and, he adds, Sanctuary is far more effective. Plus, it was easier to go forward with because once installed on the server and on each individual client, the clients pull daily updates from the server automatically.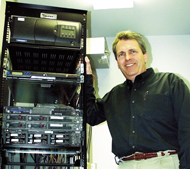 As Rickels (
left
) is a one-person IT staff at the bank, this makes management of the company's 40 PCs and 12 servers a lot easier.
"I wear a lot of hats. I want the easiest-to-manage system I can have," he says.