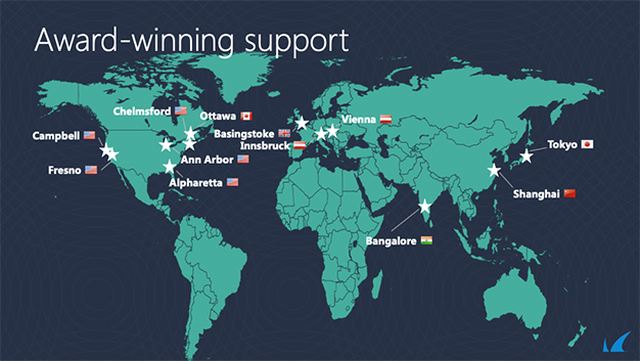 Barracuda Support is made up of more than 350 employees serving over 200,000 customers and resolving on average 300,000 support requests per year.
Ask Barracuda Networks what support comes standard with its products, and among the list of features will be "fanatical and awesome customer service."
Indeed, a key distinction for this year's winner for Best Customer Service is personalized care with live people always on the receiving end to help troubleshoot. There are no phone trees or automated service, and Barracuda does not segment support based on security levels. A strong channel partner community can also offer onsite help in over 100 countries worldwide.
Click here to access all coverage of the 2021 SC Awards.
For customers that prefer digital resources, web-based downloads of support materials as well as self-paced web-based training and certification courses are available through Barracuda Campus. The company also launched Barracuda Communities, an online portal where users can submit questions and answers, give product suggestions, contribute to the community forums, and get product-specific advice from peers. Questions and answers are reviewed by Barracuda Support Technicians to ensure accuracy. The portal also allows customers to access the latest status of Barracuda support cases, adding notes and providing feedback.
Those factors contribute to a 99% customer renewal rate since inception, which is driven by its exceptional service.
"All cases are treated as business-critical, and we provide the fastest response times for all issues," the company noted in its entry. "We maintain a continuous feedback loop using in-person seminars, user groups, online customer feedback forums, regular customer surveys, and ongoing communication and support."