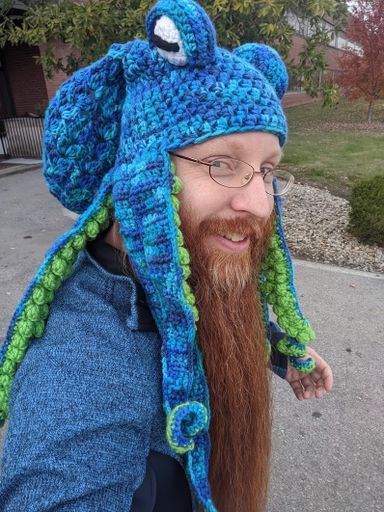 Blenster saw his first computer at a young age and fell in love instantly. He started getting paid to fix them by age 16 and was recruited by every school computer lab to help; all the way through college.
Over the course of his career he's custom built many computers, sysadmined a variety of servers, cut and run networking cables, fixed networks, removed malware, taught computer skills, written and broken software, coded in too many languages, built websites, fixed problems, and gained a reputation for solving impossible problems.
Blenster combined his love for art and computers for the first time in high school going on to build websites for two decades ranging from small sites up to Jacuzzi.com and GoArmy.com. While he really enjoyed 3D modeling and animation there wasn't any work for that and as the nerdiest Designer he ended up increasingly writing code, fixing servers, and databases. This included learning how to mitigate security risks and the constant marathon of technologies and frameworks.
He stumbled into an opportunity to be a SWQA Automation Engineer and discovered the joy of breaking code and finding bugs. Here his dogged persistence and eye for detail came in handy as he learned to test firmware on the PCB by building a hardware rig to simulate all inputs and outputs. After that was built he worked with devs and program managers to create automated tests allowing for rapid regression testing and high confidence in the output code.
Blenster has some Opinions on SWQA including the adage: Assumptions are for Devs; SWQA needs to KNOW.
Today he is on a mission to make Twitter a nicer place to be and to help other awkward dudes understand social contexts.
Blenster is a chronic volunteer also known for running Hardware Hacking Villages at a variety of security conferences over the last decade where he has taught many hundreds of folks to solder.